Amazing Vacuum Furnaces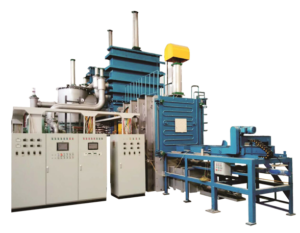 Around 500 to 525 single chamber vacuum furnaces are manufactured annually worldwide. Approximately 15 multi-chamber systems are sold annually with ±90 chambers, plus 35 custom-made vacuum chambers, such as double chambers and special purpose furnaces. Most, if not all, vacuum furnaces are manufactured in these 12 countries: China, U.S., Germany, France, Japan, Poland, India, Italy, the U.K. Turkey, Taiwan and Canada. Some of the largest vacuum furnace builders are ALD Group-Germany, Ipsen-Germany/USA, IHI-Japan, Chugai Ro-Japan, ECM-France, Seco/Warwick-Poland, GM-USA, Tanova Group –Italy/France/Germany, Fendong-China, SUMUWU-China, Solar Mfg.-USA, Centorr-US, and Vac Aero-Canada.
For the full list, please see the Global Heat Treatment Network website. Some of the most innovative ideas introduced to vacuum furnaces in the last few months are: a dynamic gas flow, 150 mm curved heating elements, round one piece hot zone insulation with CFC hot face, gas heating, and 3 D control system. Each furnace design differs drastically in cooling speed therefore it is difficult and impractical to classify vacuum furnaces according to cooling pressure. Different vacuum furnaces will cool with different characteristics, even if they share the same cooling pressure. NADCA's cooling specifications for block 400x400x400 mm (16"x16"x16") is good for dies but for typical vacuum heat treatment furnace loads, a new cooling specification/test should be developed by third and independent organizations such as the Center Heat Treatment Excellence in Wooster MA. One suggestion is that the cooling test should consists of 9 loading thermocouples that are already used for the temperature uniformity, and inserted into 9 inside rods with dimensions of 1" or 2" diameter by 12" long or even bigger, and located in the hot zone in the same pattern as the temperature uniformity thermocouples.