Carburizing and nitriding generally refer to surface chemical heat treatment of steel.
Carburizing must be made of low carbon steel or low carbon alloy steel. It can be divided into solid, liquid and gas carburizing three kinds. Widely used gas carburizing, heating temperature of 900-950 degrees celsius. Carburizing depth mainly depends on holding time, generally according to 0.2-0.25 mm per hour estimation. Surface carbon content up to 0.85-1.05. Carburizing must be heat treated, usually tempered low temperature tempering. Wear resistant and impact resistant parts with high hardness and high toughness at the center of the surface are obtained.
Nitriding is the most widely used gas nitriding process with a heating temperature of 500-600 degrees centigrade. Nitrogen atoms and aluminum on the surface of the steel. Chromium. Molybdenum formed nitride, the general depth of 0.1-0.6 mm, nitriding layer without quenching can get very high hardness, this performance can be maintained to 600-650 degrees celsius. The deformation of the workpiece is small and can prevent water from corrosion. The corrosion of vapor and alkaline solution. But the production cycle is long, the cost is high, the nitriding layer is thin and crisp, it is not suitable to bear the concentrated heavy load. It is mainly used for handling important and complex precision parts.
Coating, coating, and physical methods. Percolation is a chemical change, essentially different.
Carburizing of steel is the heating of low carbon steel to high temperature (900–950C in general) in a carbon rich medium, allowing the active carbon atoms to penetrate into the surface of the steel to obtain a high carbon layer. After quenching and tempering at low temperature, the surface has high hardness, wear resistance and fatigue resistance, while the core still maintains sufficient strength and toughness.
Chemical composition of carburizing steel
(1) the carbon content of carburizing steel is generally in the range of 0.15–0.25%. For heavy duty cementite, it can be increased to 0.25–0.30%, so that the core has enough plasticity and toughness after quenching and low temperature tempering. But the carbon content can not be too low, otherwise it can not guarantee a certain intensity.
(2) the role of alloying elements in carburizing steel is to increase hardenability, refine grain, strengthen solid solution, and influence carbon content, thickness and microstructure of carburized layer. The alloying elements commonly used in carburizing steels are manganese, chromium, nickel, molybdenum, tungsten, vanadium and boron.
Commonly used carburizing steel can be divided into carbon carburizing steel and alloy carburizing steel two categories
(1) the most commonly used carbon carburizing steels are 15 and 20 steel. The surface hardness of carburized steel and carbon steel can reach 56–62HRC after carburizing and heat treatment. But because of low hardenability, it is only suitable for small parts with low strength, small force and wear, such as bushings, chains and so on.
(2) low alloy carburizing steel such as 20Cr, 20Cr2MnVB, 20Mn2TiB etc., its permeability and core strength is high carbon steel carburizing, carburizing parts can be used in the manufacture of more important general machinery, such as automobiles, tractors in gear and piston pins.
(3) in the alloy carburizing steel such as 20Cr2Ni4, 18Cr2N4W, 15Si3MoWV etc., because of the strength and toughness of high hardenability and high, mainly used in the manufacture of large section, carrying heavy stress, complex parts, such as aero engine gears and shafts.
Solid carburizing, liquid carburizing and gas carburizing – carburizing temperature is 900–950C, surface layer w (carbon) is 0.8–1.2%, and depth is 0.5–2.0mm.
The heat treatment after carburizing the carburized workpiece should actually be considered as a composite material with a wide difference between the surface and the center content. Carburizing can only change the carbon content on the surface of the workpiece, and the final strengthening of the surface and the core must be achieved by proper heat treatment. The workpiece after carburizing needs quenching and low temperature tempering. The purpose of quenching is to form high carbon martensite or high carbon martensite and fine carbide structure on the surface. Low temperature tempering temperature is 150–200C.
Matters needing attention in carburizing parts
(1) pretreatment before carburizing normalizing — to improve the original microstructure, reduce and eliminate the banded widmanstatten structure, make the surface roughness of the thin material, eliminate the unreasonable state line. Normalizing process; using 860–980C air cooling and 179–217HBS.
(2) the workpiece should be machined after carburizing, and the hardness should not be higher than 30HRC.
(3) for the carburizing and quenching parts with thin-wall grooves, the thin-wall groove can not be machined before carburizing.
(4) zinc shall not be used to prevent carburization.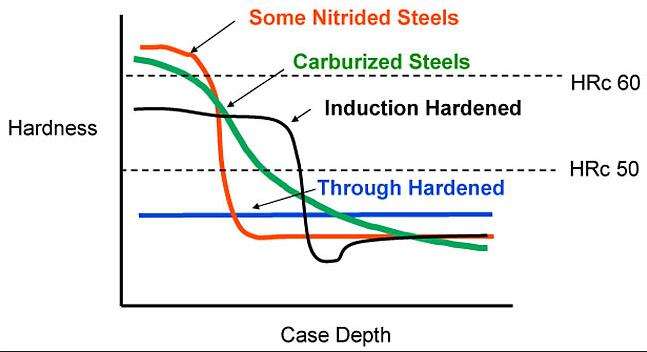 Method of preventing carburizing
(1) the method of increasing allowance is to reserve a certain amount of processing allowance in the place where no carburizing is needed, and the amount of stay is more than twice as much as that of the carburized layer. After carburizing, the carburized layer is first turned into quenching.
(2) copper plating method: plating a layer of 0.02–0.04mm copper in the place without carburizing, the copper layer should be dense, and the raw metal should not be exposed.
(3) coating method: anti seepage coating is applied on the part without carburizing.
(4) tooling method – special self-made tooling, sealing the parts without carburizing.
Nitriding of steel — (strengthening nitriding, resisting nitriding)
A chemical heat treatment process that causes nitrogen atoms to penetrate into the surface of steel and form a nitrogen rich hardened layer. Compared with carburizing, nitriding parts with high hardness and wear resistance, high fatigue strength, scuffing resistance of high corrosion resistance, high temperature nitriding process, in the following phase steel (450-600C), and small deformation, the volume slightly enlarged. The disadvantage is that the cycle is long (the nitriding time of common gas nitriding technology is up to tens to 100h), the cost is high, the layer is thin (generally about 0.5mm) and brittle, and it can not bear too much contact stress and impact load.
Nitriding steel – theoretically, all steel materials can be nitrided. But we only use the steel which is suitable for nitriding treatment and can obtain satisfactory effect, called nitriding steel. Where Mo, V, containing Cr, Ti, Al and other elements of low and medium carbon alloy structural steel, tool steel, stainless steel (stainless steel nitriding before removal of the passivation film on the surface of the workpiece, stainless steel, heat-resistant steel can be directly used in ion nitriding process), nodular cast iron can be nitriding.
After nitriding, although the parts have high hardness, high wear resistance and high fatigue strength, but only a thin layer of surface (Cr Mo Mo steel in the 500–540C nitriding layer by 35–65h only 0.3–0.65mm). It is necessary to have strong and tough heart tissue as the solid base of nitriding layer, so as to play the maximum role of nitriding. Generally speaking, most nitriding parts work under the condition of friction and complex dynamic load, and the performance of both the surface and the core is very demanding.
If carbon steel is nitrided, the formation of Fe 4N and Fe 2N is unstable. Higher temperature to gather surface coarse, can not get higher hardness, and the heart may not have higher strength and toughness. In order to obtain high hardness and wear resistance at the same time, and obtain strong and tough core structure, it is necessary to add a stable nitride with nitrogen to the steel, in addition to strengthening the alloy elements in the heart. For example, Al, Ti, V, W, Mo, Cr and so on, can form stable compounds with nitrogen. Among them, Cr, W, Mo, V can also improve the microstructure of steel, improve the strength and toughness of steel.
At present, the special steel used for nitriding is 38CrMoAlA, in which aluminum and nitrogen have a great affinity, which is the main alloying element to form nitride and improve the strength of nitrided layer. AlN is stable and does not dissolve in the steel at about 1000C. Because of the action of aluminum, the steel has good nitriding property. The nitrided steel surface has a hardness of 1100–1200HV (equivalent to 67–72HRC). The decarburization tendency of 38CrMoAlA steel is serious, and there must be a large processing allowance for each process.
Carbon steel and general alloy steel should not be chosen for nitrided parts with high hardness and high wear resistance. The carbon steel and general alloy steel can be used to improve the corrosion resistance of the ammoniation parts.
Matters needing attention in nitriding parts
(1) the preparatory heat treatment before nitriding — nitriding workpiece should be quenched and tempered before nitriding, in order to obtain tempered bainite structure. Tempering temperature is generally higher than nitriding temperature in quenching and tempering process.
(2) pre heat treatment and pre stress treatment before nitriding. The internal stress produced during mechanical processing should be eliminated before nitriding so as to stabilize the part size. The stress relieving temperature should be lower than the tempering temperature, the holding time is longer than the tempering time, and then slowly cooling to room temperature. It is not suitable to use normalizing for parts with larger section size. Die and mould steel must be quenched and tempered and shall not be annealed.
(3) surface roughness of Ra nitriding parts should be less than 1.6um, the surface may be galling, damage and rust and other defects. The parts which cannot be handled in time should be oiled to protect them from rust. When cleaning the furnace, clean the clean gasoline to ensure cleanliness.
(4) the workpiece with sharp angle and sharp edge should not be treated by nitriding.
(5) the protection of local non nitrided parts is not suitable for the allowance of machining allowance.
(6) the workpiece which is not treated by grinding shall not be nitrided.