Ceramic blanket suits for what kind of industrial furnace insulation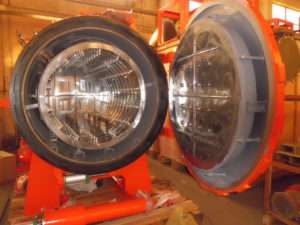 Thermal conductivity of ceramic blanket is only a quarter of the traditional heavy refractory, which makes ceramic blanket has a rising demand.Improving the technology of production equipment requirements more extensive use of ceramic fiber material in order to improve the technological content and level of light furnace kiln lining. Below to learn what kind of industrial vacuum furnace ceramic blanket can be used in also product advantages.
Industrial vacuum furnaces:
1. Petrochemical industry: cracking furnace; primary converter; Hydrogenation furnace; hydrogen evolution furnace; atmosphere furnace;Vacuum Furnace; Catalytic reforming furnace radiation chamber.
2. Steel industry: hot blast furnace; pusher-type heating furnace; walking beam furnace and optimize fiber coating and composite structures.
3. Metallurgical industry: bell type annealing furnace;continuous annealing furnace;car bottom furnace;circular furnace; walking beam furnace; soaking pit furnace; continuous pusher-type heating furnace;annealing furnace; hardening furnace; forge furnace; pit furnace; Melting aluminium furnace; sintering furnace; coking furnace thermal lining.
4. Construction industry: Ceramic sintering furnace; tunnel furnace; shuttle kiln; rotary cement kiln; Glass tempering furnace; Float glass annealing furnace.
Product advantages:
Ceramic blanket is widely used in various industrial furnace has below advantages:
1. Raw material advantages: Self owned raw material base, material inspection before entering factory, computer-controlled ingredient proportion system, strictly control raw material purity, therefore, manufactured ceramic fiber blanket's shot content is 12%, which is 5% lower than similar products. Thermal conductivity reaches 0.12W/m.k and thermal shrinkage is lower than 2%.
2. Technology advantages: the first factory which adopts inside needles flower craft. Tensile strength reaches 0.055MPa, which is 20% to 30% higher than others. ceramic fiber blanket's service life is 3 years, which is 20% longer than others.
3. Quality control advantages: manufactured as per ISO9000 standard; weigh before packing to guarantee the actual weight of each roll is no less than theoretical weight.
4. Manufacturing advantages: able to manufacture ceramic blanket's width varies from 50mm to 1220mm, thickness varies from 6 to 60mm.