EGR brazing technology and nickel-based brazing material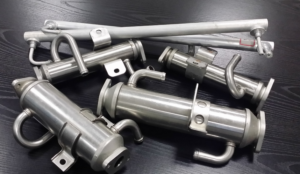 EGR cooler is an exhaust gas recirculation cooler that reduces vehicle exhaust emissions. The engine exhaust emissions through the EGR cooler after mixing in the cylinder and fresh gas combustion, by which can effectively reduce the oxygen content and combustion temperature, it can reduce the generation of NOx and make the vehicle exhaust emission limits to achieve the environment standard requirement.EGR cooler is made of austenitic stainless steel, of which the 316L stainless steel (00Cr18Ni12Mo) has excellent corrosion resistance and high temperature oxidation resistance.
At present, EGR cooler products commonly are used BNi-5 nickel-based solder to made the brazing products.. However, The liquid phase of US BNi-5 nickel-based solder is relatively high,brazing  temperature during brazing is close to 1200 ° C. Therefore ,the brazing process will lead to stainless steel base metal grain growth, and brazing high temperature, heating and cooling time, which will prolong the production time , low production efficiency and high overall cost total. So reducing the brazing temperature is an important trend in the development of EGR cooler brazing technology.
1 EGR cooler structure
Tube shell type EGR cooler is mainly assembled by the cooling pipe, motherboard, shell, air chamber flange,water pipes stents and other parts,as shown in Figure 1. As the car exhaust gas is high temperature, corrosive characteristics,so the parts that connted with exhaust parts such as the main board, cooling pipe are made of pitting corrosion resistance of 316L stainless steel,but for the cooling water or atmospheric contact parts such as shell, , Stent and other materials generally arre made of 304 stainless steel.Since the air chamber flange is thicker,though it gets the direct contact with the exhaust gas,the working environment is poor.From the cost aspect,the general choice is 304 stainless steel.
Table 1 EGR cooler base mateiral chemical component(%)
| | | |
| --- | --- | --- |
| Elments | 304 | 316L |
| C | 0.08 | 0.03 |
| Mn | 2.00 | 2.00 |
| Si | 1.00 | 1.00 |
| Cr | 18.0~20.0 | 16.0~18.0 |
| Ni | 8.0~11.0 | 10.0~14.0 |
| P | 0.045 | 0.045 |
| S | 0.03 | 0.03 |
| Mo | – | 2.0~3.0 |
Table 2 Solder main chemical component(%)
| | | |
| --- | --- | --- |
| Elments | BNi-5 | Ni685 |
| Cr | 19 | 29 |
| Si | 10 | 4 |
| P | – | 6 |
| Ni | bal. | bal. |
Table 3 Solder solid state-liquid state and recommend brazing temperature (℃)
| | | |
| --- | --- | --- |
|  Temperature | BNi-5 | Ni685 |
| Solidus curve | 1080 | 985 |
| Liquidus | 1035 | 1030 |
| Brazing temperature | 1150~1205 | 1050~1121 |
| Recommend brazing temperature | 1190 | 1090 |
Tags: EGR cooler brazing,brazing technology,brazing temperature
Edited by Jessica Wu