SIMUWU Vacuum Furnace Grinding Steel Ball Heat Treatment Analyiss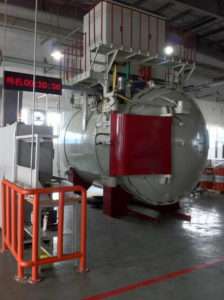 Grinding steel ball heat treatment refers to the technique of heating billets to a certain temperature, maintaining some time and cooling at different speeds.
Grinding steel ball heat treatment typically includes heating, insulation and cooling processes. These steps connect with each other and can't be interrupted. Wherein, heating is an important step. There are many heating methods for heat treatment. Charcoal and coal are the oldest heat producer, which are generally replaced by liquid or gas fuels. The electricity application makes temperature control easier and no environment pollution. These heat fuels can be used to heat directly or indirectly by molten salt or floating particles.
During heating process, grinding steel ball materials are exposed to the air, which easily cause oxidation and decarbonization (ie steel surface reduces carbon content) and gave rise to negative impact for surface properties. Therefore, heating grinding steel ball billets should be under controlled or protective circumstances. In molten salt or vacuum also will be fine. In addition, coating or packing methods can also be used to protect heating.
Heating temperature is one of the key parameters of heat treatment process. Setting and controlling temperature are essential factors for heat treatment quality. The temperature varies with grinding steel ball material and heat treatment objects. Usually, grinding steel ball billets will be heated to transformation temperature to obtain high temperature microstructure. This process takes some time. Therefore, when the surface temperature is enough high while inner is lower, we need to maintain a certain time. This period is called insulation. Using high-energy fuels or doing surface heat treatment will sharply shorten heating time and usually have no insulation time while chemical treatment, in general, need longer holding time.
Cooling is also a necessary step in heat treatment. Cooling methods change as different techniques. The key point is cooling speed. Generally speaking, the slowest cooling speed is annealing. Normalizing speed is faster and quenching is fastest. Different kinds of steel may use different techniques. For instance, air-cooled steel can be quenched as fast as normalizing speed.
Tags:Grinding Steel Ball Heat Treatment Analysis