Heat treatrnent of Tool Steel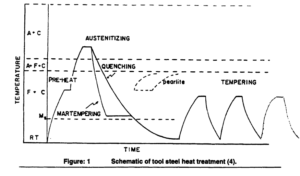 The heat treatment to which a tool has been subjected has a marked influence on cutting performance of tool steel (3). The general heat treatment schedules applied to tool steels are shown in figure 1. Austenitizing is a very critical step in the hardening of tool steel. It is in this step that the final alloy elements are partitioned between the austenitic matrix (which will transfonn to martensite) and the retained carbides. This partitioning fixes the chemistry, volume fraction, and dispersion of the retained carbides. The retained alloy carbides not only contribute to Wear resistance, but also wntrol austenitic grain size. The finer the carbides and the larger the volume fraction of carbides, the more effectively austenitic grain growth is controlled. If during heating the austenitizing temperature is high, the carbide will dissolve to a large extent, and the
precipitation of cementite on cooling will have a greater tendency to take place at coarse austenite grain boundaries. If, however, the carbide has not been completely dissolved and brge quantities remain in the fom of rounded particles throughout the matrix, carbide precipitation will take place on these preexisting points, and the network of cementite surrounding the grain boundary will not form. Thus, overly high austenitizing temperatures rnust be avoided so as to prevent grain growth which can led to problems with cracking, retained austenite,and excessive distortion.
Relatively slow oil quenching or air cooling for hardening of tool steels can lead to grain boundary carbide formation, which makes tool steel susceptible to intergranular failure. Figure 2 shows schematically the effects of three cooling rates on the transformation of a typical tool steel (5). The high hardenability of tool steels effectively suppresses perlite formation at al1 cooling rates. Bainiteformation is also readilysuppressed except in heavy sections, which cool slowly.However by slow cooling, the formation of carbides on austenite grain boundaries is difficult to suppress, as shown in fig 2. Small amounts of carbides do not significantly affect hardness but may lower tool steel fracture resistance,lead ing to quench cracking, intergranular fracture of tool steels and reduced performance of hot work tool steels such as Hl3 (6,7). A number of investigations have shown that the presence of the grain boundary carbides significantly reduces toug hness of hardened and tempered tool steels (6,8,9). Tool steels hardened in an oxidizing atmosphere scale freely; the 02 and Hl3 tool steels cannot be hardened in this manner without excessive decarborization .
Steels that can be hardened satisfactorily in an oxidizing atmosphere generally have low chromium content ( 1% or less ) and do not require a high hardening temperature ( no greater than 870°C ) (44). In order to protect the tool steel surface from decarborization and scaling during heat treatment, the fumace medium must be kept neutral. Othewise decarborization will lead to soft surfaces and cause cracking due to the formation of residual tensile stresses in the surface. A possible explanation of this mechanism is that the reductions in carbon content raise the rnartensite transformation temperature. Thus, on quenching, the outer layers transfomi first at a much higher temperature, and when the core transforms and expands, it puts the outer layer in tension (1 0).
Edited by Jessica
Tags: reference Heat Treatment and ToughnessBehavior of Tool Steels (D2 and H13) for Cutting Blades by Attaullah. (Ayooq) Arain