Installation and maintenance of vacuum melting furnace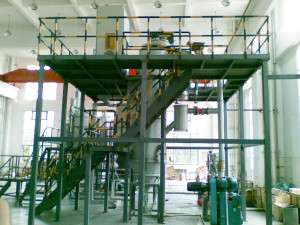 1.vacuum induction melting furnace installation: electric stove in a location with a vacuum hygiene requirements, the surrounding air should be clean and dry, and good ventilation, easy to kick up dust and other workplaces.
2. Check the control cabinet all parts and accessories are complete and intact.
3. control cabinet mounted on respective foundation, and fixed.
4. An illuminated wiring diagrams and refer to electrical schematics, turned the external main circuit and control circuit, and reliable grounding, ensure the wiring is correct.
5. Check the electrical movable section should move freely, no stuck phenomenon.
6. The insulation resistance shall not be less than 2 megohms.
7. vacuum furnace each valve must be in the closed position.
8. control power switch on the off position.
9. manual pressure regulator knob counterclockwise rotating head.
10. alarm button in the open position.
Circulating cooling water complete equipment coupled10 according to plan, we recommend the user total access to water in the device and then connected at a spare water (tap water), circulating water to prevent malfunction or power outage seals burned.