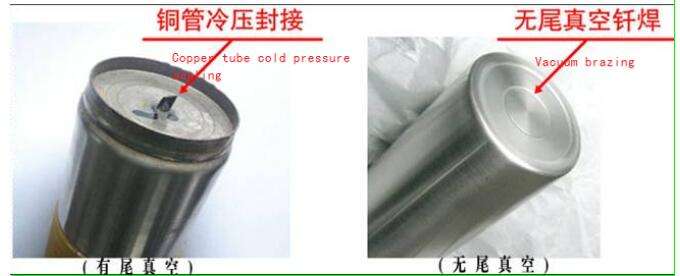 "Tail vacuum" (tubular vacuum) is a traditional process technology and uses "pressure sealing technology", but it is a pity that this kind of technical measure cannot guarantee the sealing microscopically. In general, there is a tail welding that requires welding three bottoms: inner bottom, midsole, and outer bottom.
"Tailless vacuum" is one of the most advanced technology at home and abroad. It is a vacuum-environmental process in which vessels are controlled by a computer to complete the process of pumping, sealing, and cooling. It uses the "fuse/vacuum sealing technology" to ensure long-term deflation without leakage.
Integral evacuation – "No tail vacuum" equipment is a vacuum brazing furnace, it is a high degree of automation, high product quality, so the cost and investment is also expensive comparing with the" tail vacuum". Moreover, the management and use technologies are complex and difficult . The power consumption of a single product is higher than that of a "tailed vacuum." However, due to the high level of technology, it is bound to become the development direction of stainless steel vacuum vessel production technology and the technical requirements for the pursuit of product consumption higher and higher .