Safe Vacuum Furnace Operation – Why you Should use a Safety PLC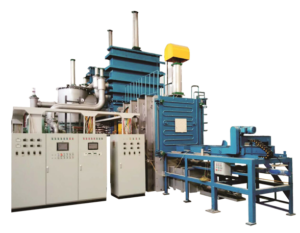 A number of years have passed since EN ISO 13849-1 and IEC 62061 replaced the outdated EN 954-1 as the technical standards concering the safety of control systems. However, the question at this point is whether they are being thoroughly applied in all technological fields, including that of vacuum furnaces.
Safety Programmable Logic Controllers (PLCs) are increasingly replacing common safety relays in several non-trivial applications. But are they really useful?
Below are five reasons that explain why a safety PLC should be installed on a vacuum furnace.
Emergency Stop is not the Only Safety Function
When the electrical cabinet of a not so recent vacuum furnace   is opened, the emergency stop is likely to be the only feature that is managed strictly according to IEC 62061 and EN ISO 13849-1 standards.
This would be normal for a simple machine, whose only risk is caused by a moving part that has to be stopped either by pressing the E-STOP button or opening a protection. However, this is not a case for a vacuum furnace with pressurized gas quenching, where pressure and temperature have significant safety implications.
Until recently, a few hardwired safeties (if any) added externally to the functional controller were the state of the art. These however do not fulfill the newer standards for several reasons, such as limited redundancy (since the functional controller cannot be considered in the evaluation of the safety function) or poor diagnostic coverage (for instance in case of short circuit).
It is necessary to understand what more can a safety PLC offer compared to conventional safety relays, even under the assumption that more safety functions should be applied based on the latest standards.
Safety PLCS can Elaborate Analog Signals
Pressure and temperature are essentially analog entities. While the latest safety PLCs can be integrated with input boards to read and then elaborate a range of analog signals (like those coming from TCs, Pt100 or several other transducers), safety relays are capable of processing only digital information (like a limit switch or a button).
But what is the advantage compared to using temperature and pressure switches to provide digital signals to the safety relays?
Analog Signals Provide Better Diagnostic Coverage
Using redundancy to increase the safety level is a basic safety practice. For instance, using two temperature switches instead of just one.
However, sooner or later the first will fail without being noticed, then the second could also fail and the safety function might be lost if the two switches are not checked at least against each other. But if the switchover point is set at a temperature that can never be reached under typical circumstances, how the two sensors be checked to see if they are consistently switching when they are not even switching at all?
Periodically removing the temperature switch and calibrating is correct, however, it is necessary to check in the maintenance log when was the last time that this was performed for the over-temperature switches installed on the vessels of the furnaces.
Edited by simuwu
Tags:Safe Vacuum Furnace Operation – Why you Should use a Safety PLC