Safety knowledge about heat treatment furnace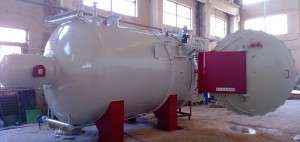 The commonly used heat treatment furnace with resistance furnace, gas and oil furnace. Heat treatment factory from the occupational safety and health. Resistance furnace is easy to control, health condition is relatively good.
1, to prevent thermal radiation, the furnace wall of the furnace to the thermal insulation material, such as asbestos, diatomite, mineral wool, expanded perlite, etc. In the oven door adopt the baffle, door, etc., having the circulating cooling water or use air curtain screen, etc.
2, gas, liquid fuel furnace nozzle should be in the furnace wall, don't row after the furnace wall and furnace door relatively, so as not to open the oven door, flame jet burns staff. Artificial lighting is unsafe, should try to adopt spark ignition device.
3, oil furnace fuel tank is not allowed in on the roof, bifurcation pipe system to set exhaust and air valve.
4, vacuum furnace gas and flue shall not cross arrangement, which will furnish relief valve, pressure can reduce the pipe in the explosion.
5, electric furnace must be insulation protection.
6, salt bath furnace in heating steam can volatilize harmful to human health, so you must set the convulsions device.
7, all kinds of heat treatment furnace is due and automatic temperature control device, it not only ensure that meet the requirements of heat treatment process, and is helpful to safe production and improve working conditions. Furnace temperature automatic control system for a variety, can choose according to the furnace types and technical requirements.
8, for safety, all sorts of oven door of heat treatment furnace, the furnace cover general equipped with interlocking device, open the oven door, furnace cover automatically power off.