Silicon carbide ceramics sintering process
Silicon carbide ceramic is a new and with good performance of the friction material.It has the quality of light weight,high heat intensity and strong resistance to radiation; and has property of high self-lubricating low friction coefficient, high hardness, wear resistance,good pair performance,high chemical stability, corrosion resistance,good thermal conductivity,high heat resistance Impact and so on.Since 1980s, the major domestic and foreign mechanical sealing companies use the silicon carbide as a new generation of high pv friction pairs of materials and mechanical sealing material.
According to the different manufacturing process, the performance of silicon carbide products are also different.Based on the manufacturing method , it is mainly named reaction sintering SiC, atmospheric sintering SiC, hot pressing sintering SiC and so on.
Reaction sintered SiC: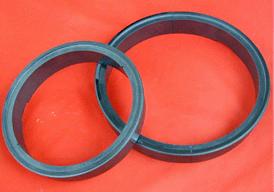 The reaction sintered SiC is composed of α-SiC powder, graphite powder, flux and binder.
After mixing them and forming,then it is placed in a crucible filled with silica fume. Put the crucible in the vacuum and heat it to 1600-1800 ℃.The silicon reacts with the carbon in the crucible to form β-SiC, forming a dense sintered body consisting of α-SiC, β-SiC and free silicon (10 to 20%). Due to the presence of free free silicon, the corrosion resistance of the reactive sintered SiC is reduced and got corrosion in the strong and strong oxidizing media.
The advantage of reaction sintered SiC is that the end product is with small shrinkage and good thermal shock resistance, which is suitable for mass production with low investment. For the end product , it has better effect that used in the mortar pump and slurry pump.
Pressureless sintered SiC: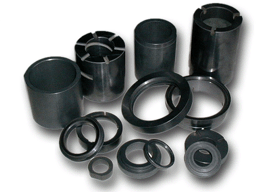 Pressureless (normal pressure) sintered SiC is using ultrafine SiC powder (particle size of about 0.1-0.2μm) , add appropriate additives and make adhesive compression molding.Then in the 2000-2200 ℃ temperature sintering. During the sintering process,ultra-fine silicon carbide particles form the 5-8μm silicon carbide crystal,which density is up to 97% or more and corrosion resistance is better than the sintered SiC.For the pressureless sintering, the billet of SiC is easily to make various shapes and bending and processing for more complex shape of products.
Hot – pressed sintered SiC
Hot-pressing sintered SiC is suitable for the SiC powder with particle size less than 1μm with appropriate additives, which are packed in graphite mold and sintered in a hot press furnace at 2000-2100 ℃ (30-50MPa).It is the most compact SiC comparing with sintering process with best chemical stability. This kind of sintering is the highest cost and suitable for high-profile sealing conditions.
Edited by : Jessica Wu
Tags: mechanical sealing material ,Reaction sintered SiC,Pressureless sintered SiC,Hot – pressed sintered SiC