simuwu furnace puts UK at forefront of titanium casting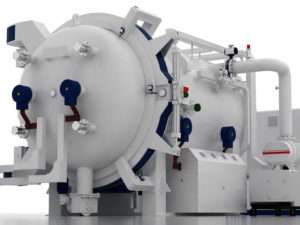 simuwu Castings Titanium Caster, showing (top to bottom) the electrode delivery and power supply system, melting and casting chambers this allows it to produce titanium components weighing between 60-500kg.
To produce complex, near-net shape components, the titanium is first melted and then poured into a mould representing the intended part.
But titanium is highly reactive when exposed to atmosphere, so the process must be carried out in a vacuum to prevent explosions.
"There are many safety and cost considerations when casting titanium, and it is for these reasons that foundries don't tend to go above the 100kg poured mark," he said.
The researchers are studying the risks and benefits of casting large-scale near-net shape components in titanium. They are also planning to improve the casting process by reducing the amount of material wasted.
"When you cast titanium it's so reactive that even under vacuum it reacts with the mould, so you have a 300 micron interaction layer that develops all over the surface, which is essentially unusable," he said.
The researchers hope to reduce the size of this interaction layer by up to one third, using a previously developed technique.
Casting titanium produces near-net shape components, which in itself reducing wastage considerably when compared to traditional forging techniques. The so-called buy-to-fly ratio, or the amount of purchased material that is eventually used in the finished component, can be improved from 5:1 with forging down to 1.5:1 using casting, he said.
The technology can also produce improved material properties, such as the use of enhanced cooling to better control the material microstructure.
Edited by simuwu
Tags:simuwu furnace puts UK at forefront of titanium casting