single-chamber vacuum heating treatment furnace, advanced technology, superior quality. Vacuum heat treatment furnace, as the name implies, vacuum heat treatment furnace is a heat treatment furnace treated with vacuum technology. Now, some common sense of vacuum heat treatment furnace is introduced.
1. The maintenance of the vacuum furnace should be in a vacuum or in the state of pure nitrogen, to avoid the usual inhalation and moisture absorption.
2. All the connection parts of the activity connection of the vacuum furnace are sealed with o-type rubber ring, which is all water cooled.
3. The workpiece is quenched in a vacuum. Vacuum quenching oil shall be used. This oil has a low saturation vapor pressure.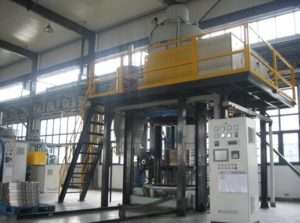 4.When dealing with titanium alloys, the vacuum furnace should not use nitrogen as a cooling gas, because titanium and nitrogen react at high temperature to form the golden titanium nitride.
5. The pressure rise rate of domestic vacuum furnace should be no greater than 1.33pa/h, and some enterprises in foreign countries shall be 0.67pa/h.