Spark Plasma Sintering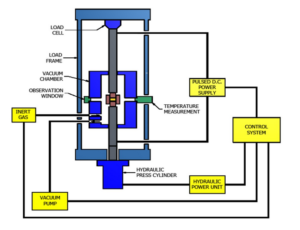 Sintering is the process of making objects from powder, by heating the material in a furnace below its melting point so that bonding takes place by diffusion of atoms. This leads to individual powder particles adhering to each other in a dense compact. The process is usually used for ceramics. Sintering can be done using various methods as Conventional Sintering, Spark Plasma Sintering (SPS furnace ), Microwave Sintering etc. Spark Plasma sintering is one of the processing routes to process biomaterials in laboratory.
Process:  Take known quantity of dried and milled powder sample in a cylindrical die, lined with graphite sheet which facilitates easy removal of the sintered compact. Switch on the Chiller – compressor and the machine. Place the die containing the powder sample inside the SPS chamber. Then, set the specific pattern (time-temperature data) needed for the experiment to follow and thereafter, maintain the required atmospheres as Vacuum, Argon etc inside the chamber. Set the power to maximum in Auto mode and the required load to be applied on the die. Also, set the z-axis position to zero. ON the timer and finally press SINTER to start the sintering process. For measuring the temperature in SPS two types of instruments are used: thermocouple for sintering temperatures below 1000°C and pyrometer for sintering temperatures in excess of 1000°C.
High DC Pulse is passed between graphite electrodes and axial pressure is simultaneously applied from the beginning of the sintering cycle. The sample is heated by the Joule-heating and the sparking among the particles of sintered material leads to the faster heat and mass transfer instantaneously. After the sintering, the power is turned off and the sample is allowed to cool.
Edited by Jessica
Tags:Spark Plasma Sintering