The main purpose of vacuum sintering furnace and the method of vacuum leak detection equipment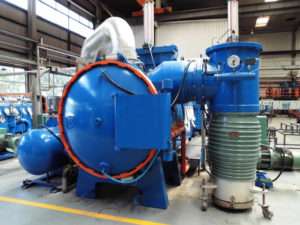 Induction heating sintering furnace shows the effect of sintering furnace sintering mainly plays: press-molded powder material at high temperature below the melting point, by body mutual adhesion between the particles and mass transfer, so that the pores excluded, volume shrinkage, strength is improved, the process of becoming a certain geometry and strength.
Sintering is the powdery material into a dense body, and given the unique properties of the material, this is a sintering furnace proprietary features.
Sintering furnace is used for sintering. The main vacuum sintering furnace and discharge plasma sintering furnace (SPS) and the like. You can direct the powder sintering.
The method of vacuum leak detection equipment have? Vacuum furnace equipment in use, if found vacuum pumping up or vacuum degree can not maintain a certain time, there may be leaking pipes and connecting parts or pump failure. For leak, simple way to check is: punch full gas containers and pipes, ensure there are slightly positive, with the use of small watering can when watering, etc., be filled with detergent, washing powder, soap solution, then the pipeline and Each part of the container of spraying, at this time, if found certain parts of foam, then this part of the leak, and then processed to eliminate leakage. It has to be able to draw up the vacuum.