The partial pressure in the application of the vacuum heat treatment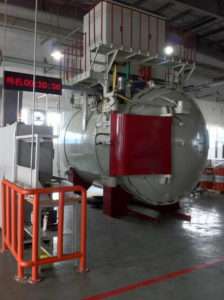 1. The choice of gas filling back
Vacuum protective atmosphere heat treatment method to the choice of gas filling. When using the partial pressure of heating vacuum heat treatment back filling gas should choose the neutral or inert gases, high purity hydrogen, helium, nitrogen and argon gas, such as common gases, four gas cooling speed from fast to slow, in turn, for hydrogen, helium, nitrogen and argon. In the air as the cooling speed of 1, the hydrogen, helium, nitrogen, argon and air cooling speed ratio of 7, 6, 0.99, 0.7, respectively. Under any pressure, hydrogen has the maximum heat transfer capacity and maximum cooling speed, can be used for graphite as heating and insulation components of vacuum furnace. But, for high carbon steel grade, the cooling stage of high temperature (above 1050 ℃) may cause slight decarbonization; Used for high strength steel has the risk of hydrogen embrittlement. Using hydrogen as coolant supply system should be sealed and reliable, complete cooling after operation, should be timely discharge of hydrogen, and filling the nitrogen, may open the oven door, otherwise, has caused the risk of explosion.
Helium has the highest price. Because it have some cooling capacity under low pressure, so, generally in 1 x 104 pa under air pressure is used.
Nitrogen is the most commonly used gas, also the cheapest. In just under atmospheric pressure under the pressure forced circulation cooling, cooling intensity value can rise about 20 times. Within 200 ~ 1200 ℃, nitrogen for ordinary steel in neutral, the titanium alloy, stainless steel, high temperature alloys such as an activity, if under the nitrogen partial pressure vacuum heating and cooling, the surface has Cr2N performance deteriorated, causing surface, namely the increase of tensile strength, reduction of area decreased, corrosion resistance will be affected by a certain. So is unfavorable use nitrogen.
Argon is common, cheaper than helium, but more expensive than nitrogen, in the case of unfavorable use nitrogen, such as stainless steel, high temperature alloy and titanium alloy vacuum heating and cooling, you need to use the argon gas.
2. The choice of the vacuum degree of vacuum furnace
After vacuum heat treatment parts surface brightness and vacuum degree of heating, the heating temperature and other factors are closely related. In a certain temperature, vacuum heat treatment parts of the surface brightness, along with the increase of vacuum degree, as shown in figure 1. However, when the heating temperature is higher, causes a high vapor pressure of the alloy elements evaporation, parts of the surface brightness will fall.