The Role of Low-Pressure Vacuum Carburizing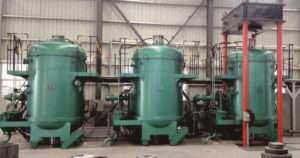 When it comes to low-pressure carburizing in vacuum furnaces, the goal is to carburize all parts within a load uniformly, to the same case depth and to the same surface carbon content.
Low-pressure vacuum carburizing is marked by its potential to provide precise process control which, in turn, helps result in a reduction in manufacturing and maintenance costs, process repeatability and uniform part microstructures.
It must be remembered that the vacuum heat-treating systems used play a vital role in the ability of vacuum carburizing in order to achieve such precise process control. which features uniform cooling and heating of the parts and high quench speeds. All of which are essential factors for consistently achieving improved part quality and repeatability.
Simuwus vacuum carburizing process is one of the several processes offered by the vacuum furnace. The vacuum carburizing process lends itself extremely well to being used in combination with high-pressure gas quenching, and it is best suited for integration into production lines.