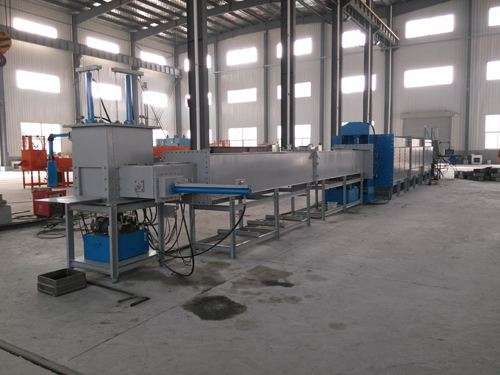 First, an overview
Our company developed research and development The tunnel continuous hot pressing diamond tool sintering furnace is a new generation product which is more elaborately designed with the production process of diamond saw tools in china,
Two, product characteristics
1. tunnel type furnace, furnace tube heating furnace temperature uniformity of four, accurate, seven temperature zone, and can adjust the temperature according to the technical requirement of quantity, easy to adjust the sintering process, to meet the technological requirements, accurate control of product quality, to ensure long-term stability of product quality.
2. continuous heating two-way extrusion, improve the sintering density, reduce product segregation, the increase of the density of the combined matrix and the cutter head, the cutter head is off, the diamond metal powder package inserts for better heat efficiency of diamond saw blade running higher, use more safety products
3., the operation is simple, the equipment adopts imported PIC control, semi-automatic and fully automatic dual-use operation, by touch screen LCD display input all process production process can automatically operate. Also equipped with manual operation button, technical personnel for different levels of speculation.
4. new process design:
A, the furnace furnace production process using the new method, the time of baking furnace is shortened to 40%, than similar equipment in the original process of drying oven less 40% of the time, and a 40% reduction in power consumption, improve production efficiency and reduce the manufacturing cost of the product.
B, furnace high temperature cotton construction method using expansion process, furnace body shape is light, the actual use of furnace temperature at 850 degrees Celsius, compared with similar products, shell temperature is lighter, low consumption, energy saving. The furnace door adopts the precision grinding process of heat-resistant cast steel, and the furnace body has good sealing, heat insulation performance and low consumption of protective gas through the two steps of pressurization and vacuum
C, the structure is simple, convenient debugging and maintenance, furnace cover and feeding mechanism end design flange cover and push device, easy to oven disassembly and debugging, observe the position and maintenance of material boat. Hydraulic system is equipped with two hydraulic stations, pushing and two-way extrusion of the oil pump separately, easy to adjust the pressure of the cylinder and maintenance.
D, the hot water and cold water section and the water cooled section of the inner wall slide adopt the high temperature heat resistant and corrosion resistant material, and the straight pushing slide rod slideway makes the pushing of the material boat flexibly and conveniently and has little resistance.