Understanding the Vacuum Carburizing Process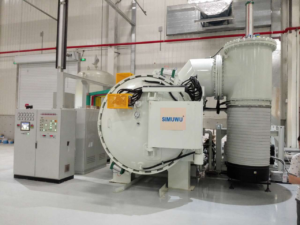 The Vacuum Carburizing process involves alternate injections of acetylene (boost) and a neutral gas, such as nitrogen, for diffusion. During the boost injection, acetylene will only dissociate when in contact with metallic surfaces, enabling uniform carburization. At the same time, it almost completely prevents the tar and soot formation problem, that occurs in earlier propane carburizers.
High carbon availability is one of the most significant advantages of this process. This helps ensure extremely homogenous carburizing, even for very high load densities and complex geometries. Overall,Vacuum Carburizing is a fairly diverse process, capable of processing parts with complex and simple geometries, wrought and powder metal materials, variations in section size, dense loading arrangements and deep, medium and shallow case-depth requirements.
After the carburizing temperature is reached, the first carburizing step is initiated by injecting acetylene into the furnace to pressures between 3 and 5 Torr. The carbon transfer is so effective that the limit of carbon solubility in austenite is reached after only a few minutes. Therefore, it becomes necessary to stop the first carburizing step after a relatively short time by interrupting the gas supply and evacuating the furnace chamber.
Edited bySimuwu
Tags: vacuum furnace,vacuum carburizing furnace,heat treatment furnace