Use water-cooled motor can effectively improve the efficiency of vacuum furnace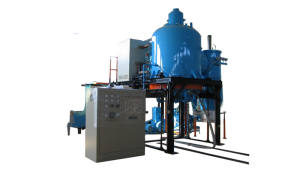 Whether to use convection heating is completely determined by the workpiece and process, although the majority of users is applicable, but take this as an option is meaningful. Convection heating furnace is limited to use graphite hotspots. At the bottom of the two loading plate. In some applications, it is necessary to use a second can move to the bottom of the furnace side loading plate. If the handling time and a processing as long cycle time, or in different loading need many times of the day, is worth considering using two charging at the bottom of the plate to increase the number of furnace charging every day. We will provide a method of and furnace quick connect and disconnect.
Vacuum furnace inner or outer gas cooling system. This will allow each heating section in each temperature set-point independent. The uniformity of the nozzle plate opening and closing test shows no cover plate breaking effect when the temperature uniformity is not very ideal. Product series will provide the inner and outer gas cooling system as options. Built-in cooling system provides a compact design and smaller area as much as possible. At the same time also has less per cycle back to air flushing volume and the advantages of vacuum time shorter. While external cooling system can be in when the height of workshop or driving highly restricted. In two kinds of schemes, and water-cooled motor will be used.
Cooling pressure option. Common quenching stress can provide 2, 6, 10, 15 bar. A variety of rush back to the gas can be used as options. Through mechanical valve controlled cooling can also be implemented in the design of the furnace. As option can be used to control the cooling of cheap machinery regulating valve to replace expensive frequency conversion control system.