Vacuum brazing furnace and practical environmental protection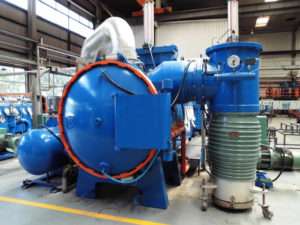 Since 1975, the existing 2 00. More than one generation now used in the vacuum brazing furnace put into production. Vacuum brazing furnace, used for soldering estimates about 10%. A lot of the early products meet the strict requirements of aerospace products, in recent years the trend has been towards general industrial situations. As long as carefully review the benefits of this modern tool, this choice is to is self-evident.
Due to the artifacts in the vacuum furnace thermocouple is constantly moving and bending, thus estimate thermocouple jack is also a leak area. Many vacuum brazing, especially those in accordance with the standard and industrial standard for brazing, requires precise control of the process parameters: temperature, heating rate and vacuum degree. Modern vacuum brazing furnace are usually equipped with a digital microprocessor controller. Accurate thermal cycle can be codified in the program, to control the heating rate, holding time, rapid rise to brazing temperature time, the use of forced air-cooled or not forced air-cooled cooling speed and so on. These instruments are very precise, greatly superior to analog instrument of early without a safety device.
Vacuum brazing furnace can produce cleaner, precision machining, metallurgy quality products, there are some did not use a vacuum brazing cannot be made into the final shape. Due to cancel the cleaning after soldering, and lower cost. This method can also be used to produce component combination of many small, low-cost products, instead of using large pieces of material machining or welding pieces together. Vacuum brazing furnace, of course, little harm the environment.