Vacuum Frequency induction furnace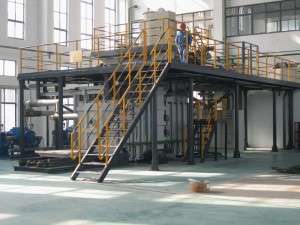 Medium frequency induction furnace is a suitable high-quality steel smelting and alloy smelting special equipment, and the amount of labor induction furnace has the following advantages:
1) melting speed, high production efficiency. Medium frequency induction furnace power density, power per tonne of liquid steel to configure than the frequency induction furnace is 20 to 30% approximately. Therefore, under the same conditions of medium frequency induction furnace melting speed, high production efficiency.
2) adaptable, flexible. Medium frequency induction furnace liquid steel per furnace can all be a net, easy replacement of steel; and frequency induction furnace was not allowed out of each furnace steel net, must be retained for the next portion of liquid steel furnace started, so inconvenient to replace steel, applies only to steel smelting single species.
3)  vacuum furnace electromagnetic stirring better. Since the molten steel to withstand the electromagnetic force is inversely proportional to the square root of the power frequency, thus stirring power frequency power smaller than the labor supply frequency. For the removal of impurities in the steel and chemical composition uniformity, uniform temperature, the stirring effect frequency power supply is better. Frequency power supply is too large momentum stir molten steel lining to scour force increases, not only reduces the refining effect and will reduce crucible life.
4) facilitate the start-up operation. IF current due to the skin effect is much greater than the power frequency current flows, so when starting medium frequency induction furnace, to charge no special requirements, can be quickly heated up after loading; and frequency induction furnace is required to open a specially crafted charge block (with approximate dimensions of the crucible, at about half the height of the crucible cast steel or cast iron block) to start heating, and heating is slow. Read this, under the conditions of the job cycle mostly medium frequency induction furnace. Another advantage is convenience starter when cycle operation can save electricity.
Because of these advantages, medium frequency vacuum induction brazing furnace in recent years, not only widely used in steel and alloy production areas, but also in the cast iron production, especially in the period foundry operation has also been developed rapidly.