Vacuum Furnace Pumping Systems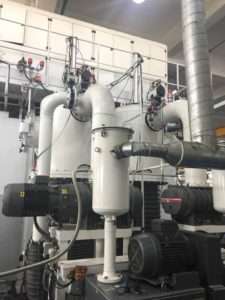 A pumping system is the heart of a vacuum furnace system. A variety of pumping system combinations are used in vacuum furnaces for evacuation of atmospheric pressure from the vacuum chamber to meet the level required for specific processes.
A vacuum furnace pumping system typically consists of three subsystems; namely, the roughing pump, the vacuum booster pump and the diffusion pump. These pumps are usually placed under the categories of mechanical and diffusion vapor pumps.
Roughing pumps, also known as mechanical pumps and blowers, are used in a vacuum furnace's pressure level. A diffusion pump is employed to generate a system pressure less than the pressure normally generated by a mechanical pump and booster package alone.
It is not possible to operate the diffusion pump independently as it needs a holding pump to be operated concurrently during idle modes, thus lowering the inner pressure of the diffusion pump. When the diffusion pump is in operation, the holding pump valve is isolated and the mechanical pump and blower serve as the backing pump for the diffusion pump.
Customers who do not require a low system pressure can employ a two-stage system rather than the three-stage system, which features a diffusion pump. Using the two-stage system, the pressure level of the vacuum furnace can be increased from atmospheric pressure to 4.5 x 10-2 Torr (as compared to 8.0 x 10-6 Torr for a diffusion-pumped furnace).
Factors, such as gas volume, pressure, desired evacuation rates and the specific vacuum furnace and process specifications, need to be considered in the selection of the appropriate system for your equipment.
Edited bySimuwu
Tags: vacuum furnace,vacuum brazing furnace,heat treatment furnace