Vacuum furnaces for brazing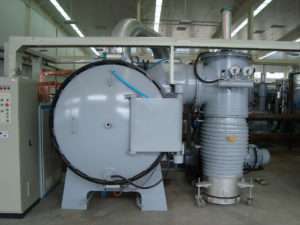 Typically vacuum furnace for brazing is an advanced cold wall, frontloading vacuum furnace incorporating low or high pressure gas quenching.
The furnace is of a compact design with an internal re-circulation blower and heat exchanger, requiring minimum floor space.
All-metal (or durable graphite) thermal insulation and heaters provide long, reliable service in this heavy-duty furnace designed for the industrial work place in aerospace industry. The pumping system, power supply and cooling systems are generously sized to enable a wide range of industrial heat treatment applications including brazing, etc… (quench hardening and tempering, low pressure carburising, annealing and solution heat treatment as well). The cooling gas re-circulation system includes a multi-nozzle gas feed arrangement to optimise the uniformity and rate of cooling of the load during quenching.