Vacuum heat treatment furnace equipments' vacuum leakage detection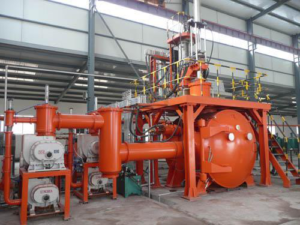 With the development of science and technology, The types of vacuum equipment and structures more and more, in order to ensure the safety and high efficiency of production, combined with different structure of equipment, for the leak detection and inspection of equipment are also put forward different requirements.
According to actual use their use range and use points, choosing the appropriate testing methods and instruments.
Vacuum equipment is a widely application in various industries.Such as simulation test in the field of aerospace, nuclear industry, space ion collision test, the mechanical parts of vacuum heat treatment, the new parts of the vacuum in the field of welding, vacuum coating, vacuum metallurgy, vacuum annealing, vacuum tempering, etc.;And in the biological pharmaceutical and vacuum freeze drying storage preservation etc, all in the extensive use of vacuum equipment.For equipment manufacturing enterprises or use, safe and reliable equipment is in the early period of the guarantee the normal production conditions.The earlier found that vacuum equipment leaking point and defect position, the sooner to eliminate hidden danger.
As technology constantly updated and progress in recent years, the test method of equipment and technology more and more,
GEHANG Vacuum according to production practice and related technology at home and abroad in recent years, the trace of the development of comprehensive analysis of the main leak test/inspection technology and principle, sums up the different vacuum equipment and use the advantages and disadvantages of all kinds of leak test/inspection technology, under the condition of leak detection and inspection requirement of company provides a strong theoretical basis.
Shell structure is different according to the vacuum equipment, vacuum equipment can be divided into double jacketed structure (water-cooled) and single (not water cooled) two kinds, in such a case of vacuum leakage defect could lead to two situations of water or air.Both water and air will bring great damage to production test and the equipment itself, especially for high temperature vacuum heat treatment furnace, leaking personnel safety accident may occur, should be highly valued.
Vacuum leak detection, vacuum equipment maintenance, please contact GEHANG Vacuum company professional engineering team to solve it.
Edited by SIMUWU.
Tags: Vacuum heat treatment equipment; leakage detector; vacuum system;