Vacuum high-pressure gas quenching furnace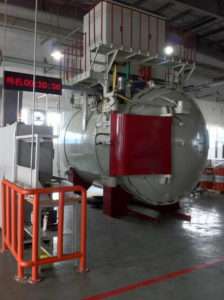 It is mainly used for high speed steel, die steel, stainless steel quenching; Stainless steel and titanium alloy solid solution treatment; Magnetic Material of vacuum heat treatment and high temperature brazing and vacuum sintering. Add convection fan can also be to low temperature tempering.
Structure features:
Heating chamber adopts stainless steel skeleton, new carbon felt composite material, less deformation, resistance to high temperature and high pressure air flow Washing, long service life, easy maintenance. Using graphite tube heater, easy installation and maintenance, low failure rate. Air cooled by jet cooling way, graphite nozzle circumference uniformly distributed, make high pressure air flow more reasonable (part of the main duct air volume size adjustable, customers can according to the characteristics of the artifacts the size of the control part of the main duct airflow), can effectively control the workpiece deformation. High speed and high pressure large flow fan, copper, copper efficient circular heat exchanger, achieve rapid cooling. Fan can use single speed, double speed, frequency control of motor speed in a variety of ways, air cooling speed control.Vacuum furnace heating chamber can also adopts full metal structure, in order to satisfy the requirement of the titanium alloy, precision alloy solid solution treatment. Electric control system adopts PLC and programmable temperature controller, realize fully automatic, semi-automatic and manual control modes of three, flexible operation.