Vacuum induction high temperature graphite furnace:
Industry category: machinery and industry equipment / casting and heat treatment / medium frequency power supply
Large output power: 250KW
Large input power: 280KW
Input intermediate frequency voltage: 750V
Input intermediate frequency current: 450A
Input oscillation frequency: 1000Hz
Detailed information:
First, the main use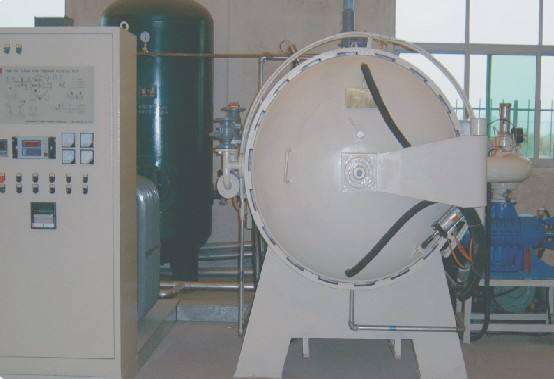 vacuum induction high temperature graphite furnace is mainly used in the research and production of graphitization sintering of composite materials.
Two, the main structure and composition
vacuum induction high temperature graphite furnace is a vertical structure, comprising a furnace body; hydraulic feed system; induction heaters; vacuum system; gas supply system; gas control device; exhaust system; frequency SCR power supply; automatic control system; automatic recording device; working platform; dust filtration system; water cooling system.
Three. Main features
vacuum induction high temperature graphite furnace is in the automatic control conditions, through the vacuum system in furnace furnace to obtain the vacuum state, using the principle of induction heating, the frequency of thyristor power supply through the induction coil heating graphite heating chamber. The mass flow controller is used to control all kinds of flow accurately, and the pressure of the furnace atmosphere is controlled dynamically by the pressure regulating valve, and the graphitization sintering is carried out under the monitoring condition. A tail gas purification system is used to remove possible remnants from the exhaust gas to prevent contamination of the vacuum system. The equipment uses advanced temperature, vacuum, gas flow, gas pressure and other instruments and sensor components and programmable controller constitute control center, to ensure safe and reliable operation of equipment. The vacuum system is composed of 2X-70 rotary vane vacuum mechanical pump, ZJP-600 vacuum roots pump and dust filter. At the same time, the vacuum pneumatic valve adopts automatic control. The use of dust filters can effectively protect vacuum pumps. The automatic recording system can record the data of working temperature, vacuum pressure, gas pressure, gas flow rate, process flow and so on. The water cooling system has the functions of water break, under voltage, water over temperature alarm and protection.