Vacuum induction melting furnace is a complete set of vacuum smelting equipments. Under the condition of vacuum, it uses the medium frequency induction heating to melt metal. It is widely used in scientific research and production departments, that is, the research and production of nickel base and its special steel, precision alloy, NdFeB, metal dysprosium, active metal, high temperature alloys, hydrogen storage materials, magnetic materials, non-ferrous metals and their alloys. The main types of Vacuum induction melting furnace including Cycle vacuum induction melting furnace and Continuous vacuum induction melting furnace.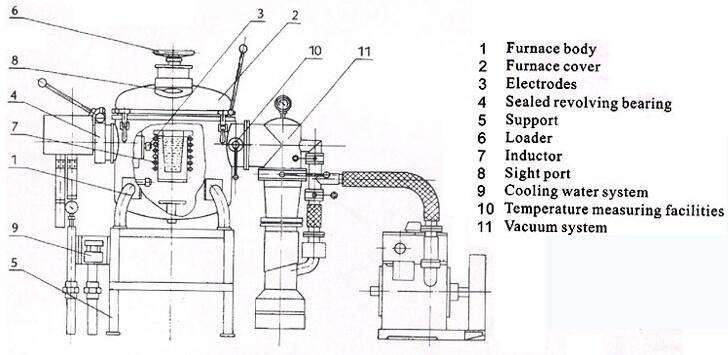 Vacuum induction melting furnace Application Advantages
• Flexibility due to different batch size;
• Fast change of program for different types of steels and alloys;
• Low losses of alloying elements by oxidation;
• Achievement of very close compositional tolerances;
• Precise temperature control;
• Low level of environmental pollution from dust output;
• Removal of undesired trace elements with high vapor pressures;
• Removal of dissolved gases e.g., hydrogen and nitrogen.;
• Choice of vacuum, controlled atmosphere, normal atmosphere or reactive atmosphere;
• Choice of different pumping systems
• High level of operational safety and good accessibility;
• Broad range of standard accessories and options;
• High reliability and high productivity.