Vacuum Metallurgy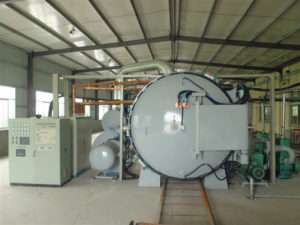 Vacuum metallurgy involves the design and supply of systems and processes for treating metals in liquid form – particularly vacuum systems for the melting,remelting and casting of metals and alloys, metals for solar cells, as well as special coating equipment for turbine blades.
Vacuum Heat Treatment
Vacuum furnaces are used for the heat treatment of metals, such as tools,transmissions, high precision parts for engines and fuel injection systems.
We also specialize in the sintering of high strength cemented carbides and special oxides.
Hardening and Tempering, Brazing Hardening is a metallurgical process used to increase the hardness of materials. Hardening of steels involves a controlled heating to austenitizing temperature with subsequent quenching and tempering – with the aim to improve strength and ductility properties of the material by influencing the microstructure. Brazing is a metal joining process where two different metal parts are joined together in a furnace by melting a filler metal in a small gap between the parts. Vacuum brazing offers significant advantages as it is extremely clean and produces flux-free braze joints of high integrity and strength.