Vacuum pressure sintering furnace problems and solutions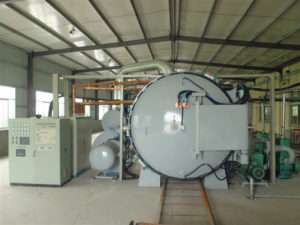 Vacuum pressure sintering furnace outages
A sudden power failure occurs now when the vacuum pressure sintering furnace is working properly, you should immediately open an external power control cabinet confirmed a power failure, or device internal power failure. If an external power failure should immediately turn off the main power switch and remove the wafer inlet and outlet on the conveyor belt, the cooling process when a call on the device to download PC, turn on the device, take the baked wafer yard, then the normal boot heating step warming to resume production; if it is an internal device total power failure, please inform the relevant person in charge of the center of the device processing equipment.
Compressed air (CDA) failure
The sudden appearance of the compressed air flow rate low pressure sintering furnace is working properly, the device will automatically stop the operation, while an alarm is triggered. At this first remove the import and export of silicon on the conveyor belt on the device to download PC cooling process. Possible reasons are the low air pressure flowmeter failure or imported. Approach is to replace the meter, valves or notification device center facilities related personnel increased air pressure. When the fault is removed switch on the device, take-baked yard silicon, then the normal temperature heating step can resume production.
Check vacuum pressure sintering furnace daily life more long-term
Want to extend the life of the pressure sintering furnace, routine maintenance is essential. Daily pressure sintering furnace inspection can avoid a lot of problems. For example, pressure sintering furnace after prolonged use of accumulated failures and so on. If checked daily, fault will not accumulate, it will not delay production. So we can find, daily inspection is essential. Next we come to talk about the contents of your check.
a, the outer surface of the machine check whether there are dirt;
b, check the protective cover is deformed, the fastening bolts are loose;
c, check the surface of the table if there is oil, rust and other anomalies;
d, check the switch button is sensitive and reliable;
e, check whether the slider owe lubricating oil pump;
f, check whether the feeder lubrication points less lubrication;
g, Check lubricator oil level is abnormal (oil subscript 2/3)
Daily checks allow the vacuum pressure sintering furnace run better, it can also be good to extend the service life of pressure sintering furnace, sintering vacuum furnace so that the vacuum pressure of time longer.