General knowledge of vacuum heat treatment (tempering furnace)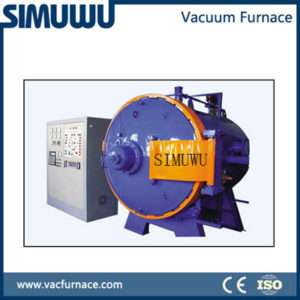 heat treatment factory cooling gas: steel is generally used in ninety-nine point nine nine five percent N2, high temperature alloy ninety-nine point nine nine nine percent Ar or N2, titanium alloy using 995%percent Ar.
the pressure rise rate of the domestic vacuum furnace should be no more than 1.33Pa/h, the standard of some enterprises in foreign countries is 0.67Pa/h
the work-piece in the vacuum condition of quenching, should use the vacuum quenching oil, this oil has a lower saturation vapor pressure.
vacuum furnace maintenance should be in a vacuum or filling nitrogen state, to avoid usually do not have time to inhale, absorb moisture.
 heating: after the work-piece, the general to the 6.67Pa before the heating temperature can be heated.
vacuum heating to radiation, the work-piece in the furnace should keep the spacing.
 temperature rise process, the work-piece and the furnace material will be gas, so that the vacuum degree decreased.
 vacuum tempering furnace should have quick cooling device. Cooling water pressure should be greater than 0.2Mpa, flow should be adjustable.
 vacuum tempering, vacuum annealing, vacuum solid solution treatment and vacuum aging heating temperature is the same as that of the conventional treatment.
vacuum furnace treatment of titanium alloy, it is not suitable for the use of N2 as a cooling gas, because the titanium and N reaction at high temperature, the formation of gold and titanium nitride.
Edited By Eric
Tags: Gernal Knowleadge of vacuum furnace