MIM sintering furnace is short for metal injection and sintering furnace. It is a method to inject metal powder and its binder into the model. It is a mixture of the selected powder and the binder, and then the mixture is then prepared for the shape needed for the injection molding.
MIM process combines the flexibility of injection molding design and the high strength and integrity of precision metals to realize low-cost solutions for extremely complex geometric components. The MIM process is divided into four distinct processing steps (mixing, forming, degreasing and sintering) to realize the production of the parts, and the surface treatment is required for the product characteristics.
The manufacturing process of metal injection molding furnace is generally included: mixing, molding, degreasing, sintering and secondary treatment.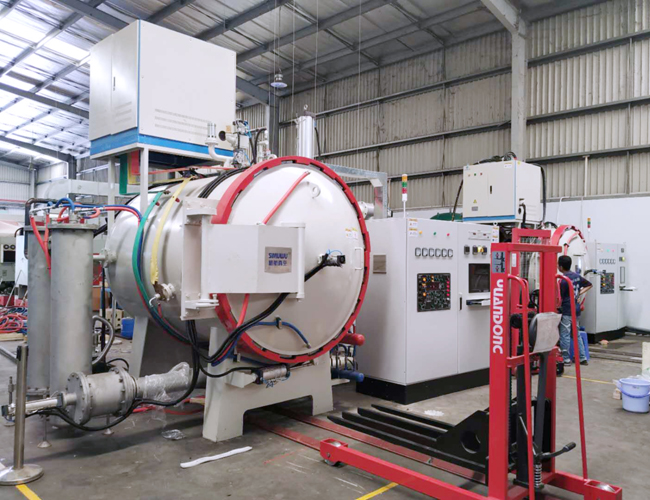 Main technical features of metal injection and sintering furnace process:
1. Suitable for the forming of all kinds of powder materials and widely used in products;
2. High raw materials utilization, high production automation, suitable for continuous mass production.
3. Small parts that can directly form complex geometric shapes (0.03 g ~ 200g);
4. The precision of the parts is high (plus or minus 0.1% ~ plus or minus 0.5%), and the surface is fine (roughness 1 ~ 5 mu m);
5. High relative density (95 ~ 100%), uniform and excellent performance;
Several kinds of surface treatment techniques are used in MIM parts
Polishing treatment, using mechanical, chemical or electrochemical action to reduce the surface roughness of the workpiece to obtain a bright, flat surface processing.
Application of metal injection and plastic sintering furnace:
The MIM is widely applied, including daily necessities, such as car MIM sintering furnace, military industry MIM sintering furnace, aerospace industry MIM sintering furnace, mobile phones, watches, medical, home appliances, cameras, and is equipped with the MIM parts of electric tools, etc. MIM technology can be applied to any material that can be made into powder, the current application of MIM material system mainly include: stainless steel, iron-based alloy, magnetic materials, tungsten alloy and cemented carbide, fine ceramics, etc.