Sintering of metals:Powder metallurgy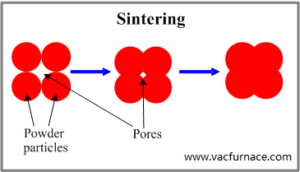 Sintering is a method involving consolidation of powder grains by heating the "green" compact part to a high temperature below the melting point, when the material of the
separate particles diffuse to the neighboring powder particles.Powder metallurgy
Sintering vacuum furnace occurs simultaneously with pressing in the hot pressing processes (hot isostatic pressing, hot die pressing).
Sintering process may be conducted in different atmospheres: air, inert atmosphere, Powder metallurgy,reducing atmosphere (containing Hydrogen or carbon monoxide) or in vacuum.
Decrease of the porosity, caused by the sintering process, is determined by the level of the initial porosity of the "green" compact, sintering temperature and time.
Sintering is enhanced if a liquid phase takes part in the process. This occurs when the powder contains a component, having the melting point lower, than the melting point of
the base metal (for example in copper-lead-tin bearing alloys).