The structure characteristics of the vacuum quenching furnace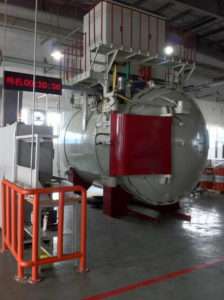 In the category of vacuum furnace, vacuum quenching furnace is the most widely used and most representative of the typical equipment, electric furnace has a complete and scientific quality management system, standardized production workshop, has yearly produces 1000 sets of electric furnace production capacity, production scale, the industry is the domestic influential experimental furnace, industrial furnace production manufacturers.
Vacuum quenching furnace has the following features: 1, the strict vacuum sealing it is well known that vacuum heat treatment heating and quenching workpiece were conducted in airtight vacuum furnace, thus ensure vacuum degree of vacuum quenching furnace, and to ensure the quality of the parts of the vacuum heat treatment has very important significance. To guarantee the vacuum performance of vacuum furnace, vacuum furnace adopts hermetically welded, the little hole, to minimize the vacuum leak. Installed on the vacuum furnace parts, accessories such as water-cooled electrodes, such as thermocouple device are also derived seal structure.
2, most of the heating and insulation materials can only be used in the vacuum of the vacuum quenching furnace heating and insulation lining is working under vacuum and high temperature, these materials have high temperature resistant, low steam, radiation effect is good, low coefficient of thermal conductivity, etc. As most domestic vacuum quenching furnace mainly adopts graphite heating and heat insulation structure material, it is heated extremely easy oxidation under atmospheric conditions, therefore, the conventional heat treatment furnace can not use these heating and insulation materials, families, poor vacuum furnace chamber of a stove or furnace adopts imported alumina fiber made from vacuum adsorption heat preservation and heat insulation effect is better.
3, water cooling device of the vacuum furnace furnace shell, furnace cover, electric heating element (water-cooled electrodes), middle vacuum hot insulation parts, both work in a vacuum, heating condition. Under the condition of the disadvantage of work, must ensure that all parts of structure deformation, damage, vacuum sealing ring without overheating and burning. Components, therefore, water cooling devices are set up according to different situations, in order to ensure the normal operation of vacuum furnace can and have enough life.
4, heating the workpiece with low voltage large current In the vacuum heat treatment furnace, when the vacuum degree to a few hundred mpa (Pa), electric conductor under high voltage, can produce glow discharge phenomenon, serious can produce arc discharge, burning electric heating element, insulation, etc., cause serious accident and loss. As a result, the working voltage of electric heating element of the vacuum heat treatment furnace, generally not more than 80-100 volts. Electric heating element to avoid a cutting-edge parts at the same time, the spacing between the electrode cannot be too narrow, etc., to prevent the occurrence of glow discharge and arc discharge.
5, a high degree of automation for metal workpiece heating, cooling, such as operation, need more than a dozen or even dozens of action to complete. These actions are carried out within the vacuum furnace, the operator can't close to. At the same time, after some action such as heat insulation, metal workpiece quenching process should be more actions and finished in a short time. In such conditions to complete many action quickly, it is very easy to create tension in the operating personnel and constitute a wrong operation. Therefore, vacuum furnace adopts the high automation program to control.