Three-chamber aluminum brazing vacuum furnace is mainly used for vacuum brazing of automobile radiator, air conditioner evaporator, condenser, radar network antenna and other aluminum alloy products. High speed steel, high alloy die steel, electrical magnetic material, nonferrous metal, stainless steel products, bright annealing, solid solution aging, vacuum brazing and magnetic material sintering.
Three chamber aluminum brazing vacuum furnaces have graphite furnace and metal furnace two types: the graphite furnace is hot body of graphite rod, the thermal insulation screen is multi-layer carbon felt and ceramic felt; The metal furnace is made of metal molybdenum and the heat shield is made of molybdenum and stainless steel.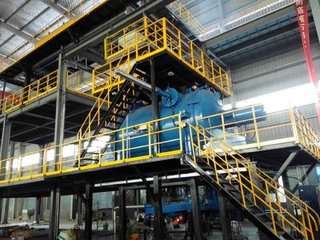 In order to ensure the soldering quality, the equipment adopts the partition heating temperature control, furnace temperature uniformity can be up to + / – 3 ℃, the heat insulation screen is made from stainless steel the highest temperature (700 ℃) with heating element of Ni – Cr.
Characteristics of three-chamber aluminum brazing vacuum furnace:
1. Roller feeding system.
2. Preheat the workpiece in preheating chamber.
3. Square/round heating chamber design, metal reflection screen, 360-degree radiation heating.
4. Multi-zone independent temperature control and low temperature convection heating.
5. Internal and external circulation cooling method.
6. The suction nozzle increases the vacuum condenser.
7. High vacuum unit recovery time is fast.
8. Accurate process control to achieve consistent product reproducibility.