Vacuum annealing methods by vacuum furnace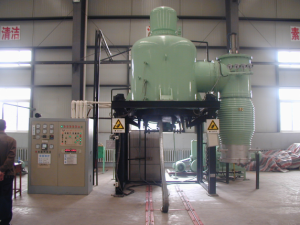 The main purpose of the force relaxation annealing, clear that the residual stress resulting from forging, casting, machining, or on welding, residual stress often leads to artifacts such reduced strength, durable deformation, and toughness, ductility have an adverse effect, and therefore annealing for relaxation force longitude demanding workpiece size, safety concerns something very important mechanical components. Annealing heat treatment procedures Department relaxation force of the workpiece is heated to a suitable temperature below the A1 point, for a period of time (like without softening annealing so long), the move slowly cooled to room temperature. Of particular note is the speed when heated slowly, especially large objects or more complex shape of the workpiece to pay special attention, otherwise the relaxation annealing force effectiveness will be greatly reduced.
Softening annealing:Softening annealing heat treatment procedure the workpiece is heated to within (A1 temperature below) the range of 600 ℃ to 650 ℃, maintained for some time after the air cooling, its main purpose is to make to the hardening of the workpiece again softened reply original of toughness, in order to further processing. Such heat treatment is often repeated in the course of cold working embodiment, it is also known as annealing process. Most of the metal after cold working, material strength, hardness with increasing processing volume becomes large, thus resulting in reduced ductility, brittle material, if need further processing, shall be treated by a softening annealing in order to continue processing.
Ball annealing:The main aim is to make steel by heat treatment or the material inside the layered network carbide condenses to form spherical, so improving the cutting and processing of plastic steel, especially high carbon tool steel is annealed in need of such treatment. Common spheroidizing process comprising:
(1) above the A1 temperature of the steel below the repeated heating and cooling several times to A1 metamorphosis precipitated Xueming carbon iron, continued to grow attached to said spheroidized carbide;
(2) is heated to a temperature above the steel A3 or Acm before they complete solid solution carbides in austenitic after quenching body, then spheroidized by the method described above. Carbide ball, we can still increase the toughness of the steel after quenching, to prevent quenching crack, also improve the mechanical properties after quenching and tempering of steel, improve the life of steel.
Fully annealed:Fully annealing line will be sub-eutectoid steel heated to Ac3 temperature above 30 ~ 50 ℃, eutectoid steel is heated to a temperature above Ac1 about 50 ℃ temperature range, the temperature is maintained at a sufficient time to allow to become austenitic single phase organization (sub-eutectoid steel) or austenitic body plus Xueming mixing carbon body tissue, softening of the steel making  vacuum furnace cooling, in order to get the best of ductile steel and fine grain structure.
Homogenised:Homogenization treatment is the use of prolonged heating at high temperatures, so that the chemical composition of the interior sufficiently diffused, so-called diffusion annealing. The heating temperature may vary due to the type of steel, large steel ingot is generally between 1200 ℃ to 1300 ℃ homogenized, high carbon steel between 1100 ℃ to 1200 ℃, and general forging or rolling of the steel in 1000 ℃ to 1200 ℃ between this heat treatment is carried out.