Vacuum Furnace Rapid Technological Development, Expanding the Range of Applications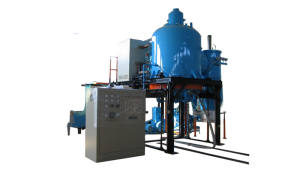 Technological characteristics and technical requirements for vacuum brazing, based on PLC technology to achieve a room for three consecutive vacuum brazing of integrated automation system, discussed the principle of vacuum brazing soldering, brazing furnace continuous three-compartment system function, process, PLC features.
With the development of technology, the vacuum heat treatment technology developed rapidly, expanding the range of applications. Material being processed also promote from titanium, niobium alloys, high temperature alloys, magnetic materials to tool steel, tool steel, high speed steel, alloy steel, bearing steel, alloy tool steel, spring steel.
Application of vacuum heat treatment at home and abroad to focus on aviation, aerospace, automotive, tools, molds, and other industries, and in the automotive industry in recent years has been rapid application, especially in terms of vacuum furnace. And with three rooms emergence continuous vacuum oven to achieve a continuous brazing for enterprises save production costs, improve production efficiency and optimize production processes.