Vacuum sintering furnace is what?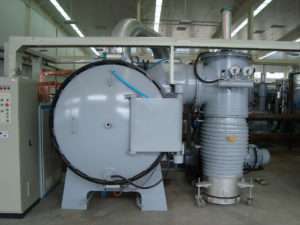 Sintering furnace, we are often used in our daily life, work, but I don't know whether "vacuum sintering furnace" known? Vacuum sintering furnace is heated objects to make use of induction heating protective sintering furnace, can be divided into the power frequency, medium frequency, high-frequency, such as type, can be ascribed to a subclass of vacuum sintering furnace.
Vacuum induction furnace is under vacuum or protective atmosphere conditions, using the principle of intermediate frequency induction heating make hard alloy tool bit and all kinds of metal powder compacting sintering of complete sets of equipment, is for hard alloy, metal dysprosium, designed in the industrial production of ceramic materials.
Main principle and use vacuum sintering furnace is after vacuum filling hydrogen protection condition, by using the principle of intermediate frequency induction heating, the high temperature of tungsten crucible in the winding, by heat conduction to work on, suitable for scientific research, military units for hard metal such as tungsten, molybdenum and its alloy powder sintering molding.
The main structure and structure form is vertical, the discharging more ways. Its main composition is: the furnace body, vacuum system, water cooling system, pneumatic system, hydraulic system and front-rear institutions, base, workbench, induction heating devices, into the electric device, medium frequency power supply and electric control system, etc.
 Vacuum furnace main function after vacuum filling the hydrogen gas protection and control atmosphere in furnace pressure and sintering condition. Available optical fiber infrared radiation thermometer and armoured thermocouple temperature measurement (0 ~ 2500 ℃), and through the intelligent temperature control after comparing with the setup program, select the execution state feedback to intermediate frequency power supply, automatic control temperature and heat preservation program.