Electrode feeding device.
FIG. 7 shows the electrode feeding device, whose structure is separated and sealed by ceramic copper and pure titanium tube, and the material is TA1+ Al2O3 ceramics 95%+T2.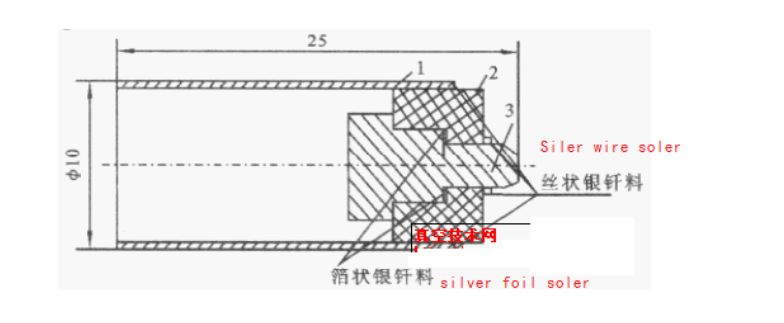 FIG. 7 electrode feeding device.
The following procedure should be performed before the nail welding: 95% of Al2O3 ceramics is metallized with mo-mn method and then coated with Ni or Cu. Titanium tube TA1 first takes steam to remove oil, then carries on pickling; Will be thick 0. L mm BAg72Cu solder foil shape cut into certain shape, will be 0.8 mm Φ BAg72Cu made the form of the joint ring, good assembly parts with ceramic plate pressure, load a vacuum furnace heating chamber for brazing. Background vacuum brazing process parameters: cold 10-3 Pa, brazing temperature for 830 + 5 ℃, brazing of the holding time of 3 min.
Ceramic electrode
FIG. 8 shows the introduction electrode used in the vacuum equipment. The material is separated by alumina ceramic between T2 and stainless steel components, and the ceramic insulates and requires the brazing sealing. The brazing process adopts mo-mn method to metallize the hole end and outer surface of alumina ceramic and then plating the nickel layer of 35 mu m. Using BAg72Cu solder, with the vacuum degree of 10-1 Pa and brazing temperature of 850, the heat preservation is 5 min, and the obtained joints are clean and dense.

FIG. 8 ceramic probe
1. Copper electrode rod 2. Alumina ceramic tube 3. Stainless steel shell.
Vacuum diffusion brazing of silicon nitride ceramics and 40Cr steel.
Si3N4 silicon nitride ceramic is connected or sealed with 40Cr steel, and BAg72Cu solder cannot be soldered directly. Sandwiched between them should be 0.1 mm of pure titanium foil as activation layer, with molybdenum or GH44 high temperature alloy make it flexible fixture, a certain pressure to the workpiece, then vacuum in the vacuum furnace to the 5 x 10-3 Pa, heated to 750 ℃, 10 ~ 20 min, stable work vacuum degree not less than 2 x 10-2 Pa, brazing temperature is 820 ℃ ~ 850 ℃, holding time is 3 ~ 5 min. The obtained joint tensile strength of b = 208 MPa.